#WhatscookinWednesday: Paleo Kale Chips & Aioli
It's time for another delicious edition of #WhatscookinWednesday. This week's recipe is a real treat, courtesy of bravoforpaleo.com.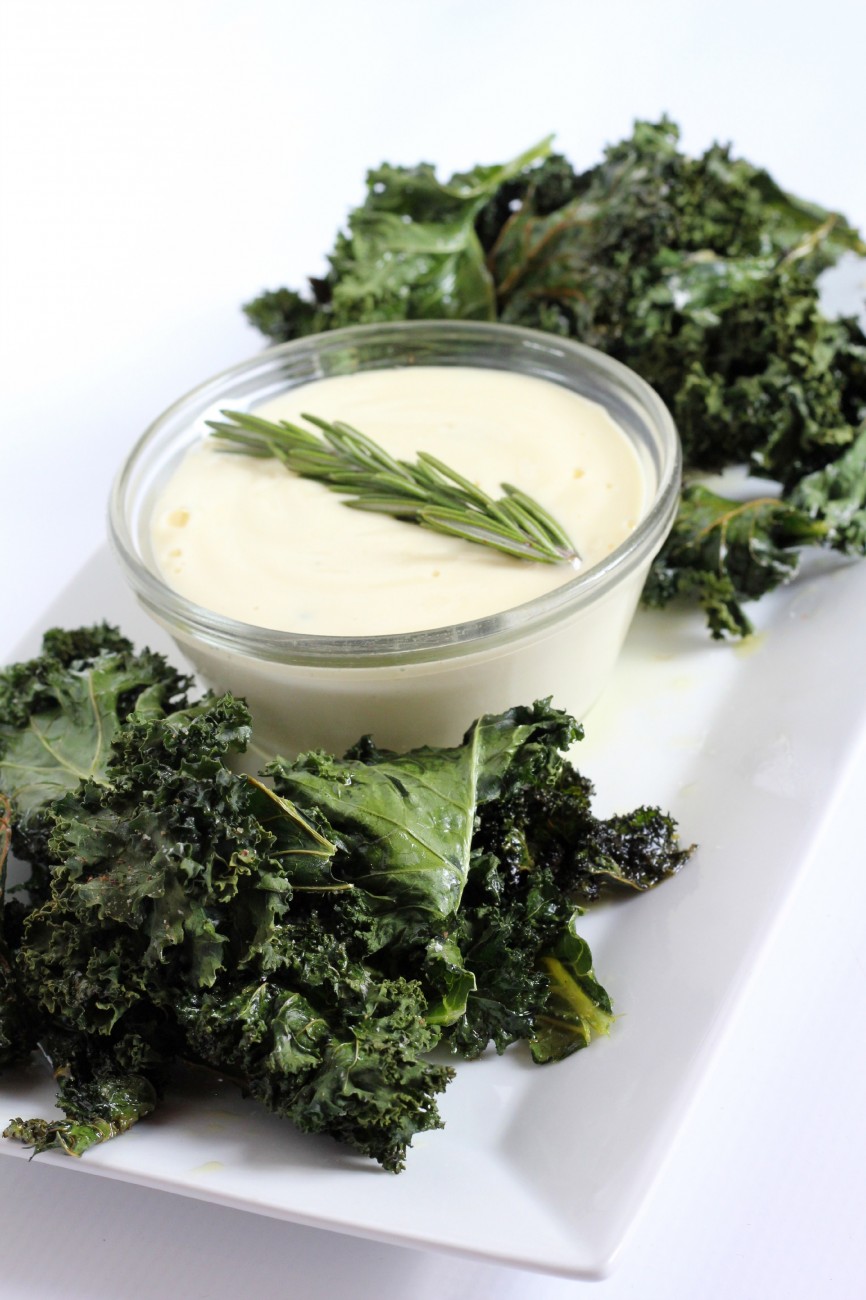 If you've ever tried to make kale chips you are probably familiar with soggy slabs of kale, or krispy burnt greens! Today's recipe will save the day!
Paleo Garlic Aioli is a delicious homemade garlicy dip, filled with garlic, rosemary and lemon!
Ingredients:
Kale Chips
1 bunch of kale
Olive oil, for drizzling
Salt and pepper, to taste
Garlic Aioli
1 egg yolk, at room temperature
2 Tablespoons lemon juice
1/2 teaspoon mustard powder
1/2 cup avocado oil
1/2 cup olive oil
2-3 garlic cloves
2-3 sprigs of rosemary
Instructions: 
Kale Chips
1. Preheat your oven to 275 F.
2. Wash the kale well and remove the leaves from the stems.
3. Place the leaves on a cookie sheet. Drizzle olive oil and sprinkle salt and pepper to taste.
4. Place in oven for 20 minutes. In the meantime, make the aioli.
Garlic Aioli
Place room temperature egg, lemon juice, and mustard powder in a food processor or blender. Blend or pulse until frothy (2-3 pulses).
This is the important step. Take your time or you will mess up the recipe. I put the avocado and olive oil in the same bowl after measuring. Slowly add the oil mixture tablespoon by tablespoon while the blender or food processor is on. Once you have added about 1/3-1/2 cup of the oil you can pour it in quicker. This step should take 2-3 minutes. I use the small hole feature on top of the food processor.
Now you should have mayo. Add the garlic and rosemary into the blender or food processor and pulse until combined well.
Serve with chips for dipping!
Notes
If you do not have avocado oil available you can use 1 cup olive oil.
Enjoy!
You're only one workout away from a good mood, enhanced self-esteem, and improved fitness! Join the Fit1 Bootcamp team in our Etobicoke gym for classes year round, indoors in the winter, and indoors and outdoors in the summer.
Co-Ed Bootcamp Classes in Etobicoke, Toronto
Monday, Wednesday, Friday: 7:00am – 8:00am, 6:30pm – 7:30pm
Tuesday, Thursday: 6:00am
Saturday: Karma Classes (minimum $5 donation to abilitygives.org) 9:00am
Women Only Bootcamp Classes in Etobicoke, Toronto
Monday, Wednesday, Friday: 9:30am-10:30am
Personal Training in Etobicoke, Toronto. Available 7 Days Per Week By Appointment