Carrie-Anne Pidgeon
Lost over 100 pounds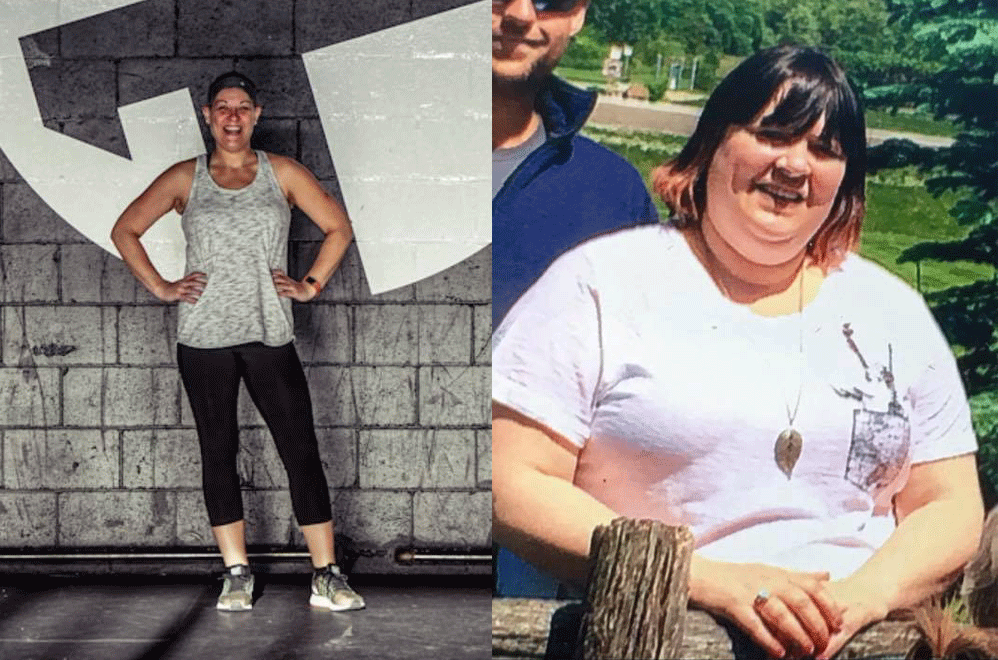 Thank you Len and Fit1 Bootcamp,
We all have our stories as to how we got to where we are.  Mine started with a traumatic experience in 2011 well before my Fit 1 journey.  In 2011 I was diagnosed with cancer.  Though I beat it, there was a residual effect that destroyed the way that I related to the world and worse, the way that I related to myself.  My fertility was taken from me in the process of the fight.  
Though I had (and have) some amazing friends and family who supported me through the process, by fundraising for me to be able to save my eggs and keeping my dream of motherhood alive, the entire physical and emotional process left me feeling broken.  When I lost my fertility something in me changed and I felt worthless.  You see, fertility for me was a huge part of womanhood, without it just how much value did I have?  Those thoughts and many others plagued me.  
In the beginning, the first year,  I did my best to pretend that nothing had changed but then the truth was showing on the surface as I stopped taking care of myself and the need to withdraw had taken over my life.  It manifested itself in ways I would have never imagined.  I stopped talking to my friends, started eating my feelings with junk food, and even refused to leave my home outside of forcing myself out for life's necessities.  Something in me had died and I was doing nothing to bring it back.
I've already gone so far, that I don't mind telling you that when I finally did start to reach out and get a hold of myself again, that there were these moments, these brief moments of push back, where I would try to bargain with myself to do better, to eat better, and to treat myself better.  But, it was short lived and eventually things got worse as depression set in.  I reacted with food.  Lots and lots of food;  I found a comfort in it.   A vicious cycle began because though food made me feel great in the moment, the effects of food caused crashes, mood swings and even more depression.  The depression would serve to get me to eat even more until I had escalated to 255lbs.  
Now let me tell you something you may already know.  At 255 lbs your body rebels.  Everything hurts.  Simple tasks were difficult like walking, bending over, putting on my socks or even sleeping (try getting comfortable).  I began using food for more than comfort.  As the weight came on I found myself beginning to use my rounded belly as a device of greater comfort as I imagined that 'this is what I would look like if I were pregnant'.  Making what I was doing to myself a sort of… well… sort of okay.  These comforting moments that were eventually replaced with self loathing.  
I finally mustered enough of my own brand of attitude and decided to take a little action and in late 2015 I went to go to the gym with some ladies from work.  One of those you're-on-your-own,  pay a monthly membership, and drop in any-time you want types.  This was a great step for me and though I enjoyed working out with ladies and getting myself taking action I quickly learned that I would need more support than was offered.   Fortunately, the right opportunity came just after Christmas when I was hanging out with a group of friends.  One of them had a challenge for me.  He said, "If you start going to the Fit 1 Bootcamp, and train with Len, I will pay for your first three months!"  He knew me well because I have a hard time ignoring a direct challenge.  
So I did it!
I started with Len and the Fit 1 family in 2016. I call it a family because that is just what it became.  Not only is Len an amazing trainer but the members are the most welcoming and supportive group I could have ever hoped for.  Being in such an environment was just what I needed.  Couple that with Len and it made for one of the best decisions I ever made.  I now realize there were keys to my success and having those things addressed unlocked something in me and I never looked back.  
Len made me accountable every day. That was something I didn't realize would become so important in my journey, as he would ask me when I would be in the gym next.  There was something in the simple act of telling him that made me commit.  In the beginning though, it was tough and I didn't think that I could do it.  When I thought I just couldn't push on, Len would be right there next to me encouraging, showing me proper form for better results, and so much more.  Just the sheer act of these moment of his placing his attention on me when I needed it, pushed me to do things I didn't know that I could do.   It wasn't just on the gym floor either.   I was in the gym every day and every day he asked me about my day, about my eating, and how I was feeling.  He was the right kind of trainer for me not only for the support on the floor but also what he offered off of it!  
The mental challenge with making physical and also nutritional changes was something I do not think I will ever be able to describe.   Nutrition was the most difficult change for me as I had so many things in my mind telling me to eat things that weren't healthy and even today I have to be mindful about this.  Perhaps I always will be, but at least I know now that I am capable of rising above it and, because of that, the effects have been extraordinary.  In high stress moments I want chocolate and chips! But I have worked so hard to be where I am now that it is a powerful motivator for better choices!  And with my Fit1 family I never go without a new recipe that is healthy and delicious.  
I can look back now and tell you that I love my journey.  I accept my life and work to make it great and that includes how I treat myself.  It took a lot of hard work and the support of an amazing trainer and a group of friends at Fit ., I can now report that I have officially lost 100 lbs in a very uplifting 1.5 years!  Thank you, Len!  Len has this way about him, he is genuine, supportive and enthusiastic.  He engages fully with the members and because of that I consider him much more than my trainer, he is a friend.  Fit 1 Bootcamp family, thank you too!  Not only have I lost the weight, but in the process I have gained muscle, well-being, and a love for life… my life.  I look at myself in the mirror, and I feel proud.  I see myself staring back at me filled with joy, laughter… and some pretty killer muscle definition.  
For anyone reading this, that's my story, I wish for even more success for you!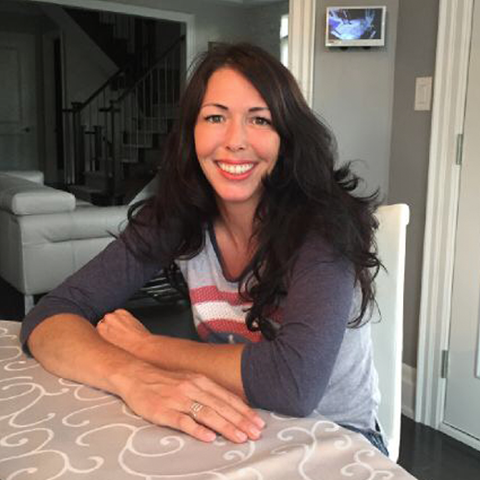 Jen Jacobs
Lost over 28 pounds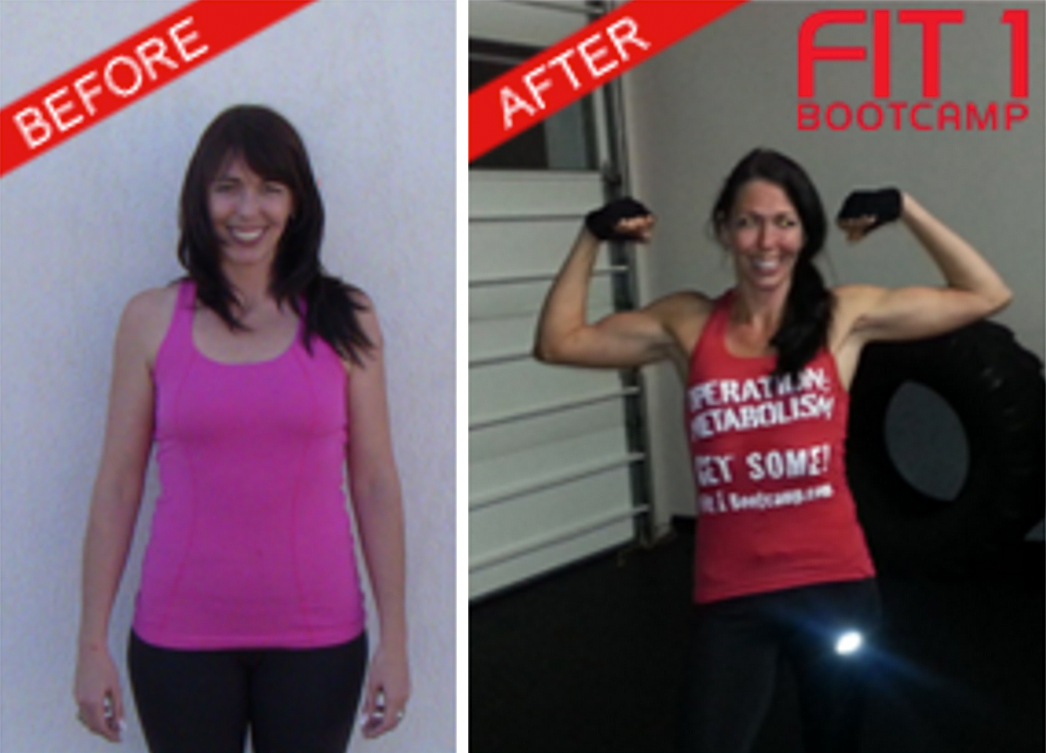 I joined Fit1 and Len in June 2012. I had been looking for a consistent and reliable way to get myself back into shape after letting work and life get in the way. The classes were fabulous, the times convenient and the people welcoming. I never imagined with Len's help and support I could reach these goals. The weight started to fall off, my energy increased and I was happier… Now, 1 year later… I am in better shape than when I was 20! I have now built this routine into my life and am so thankful for all that you have done.
Thank you Len – You are amazing!!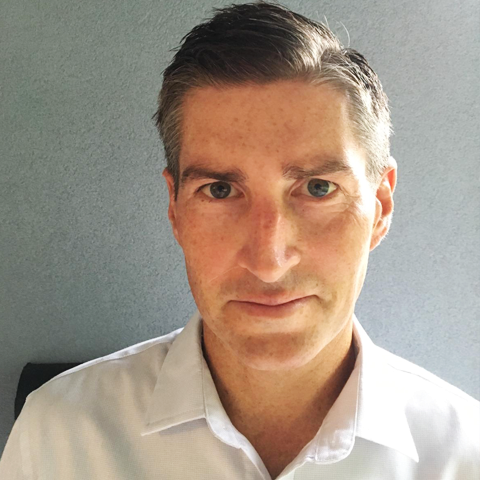 Mike Mckay
Down 50 pounds in 9 months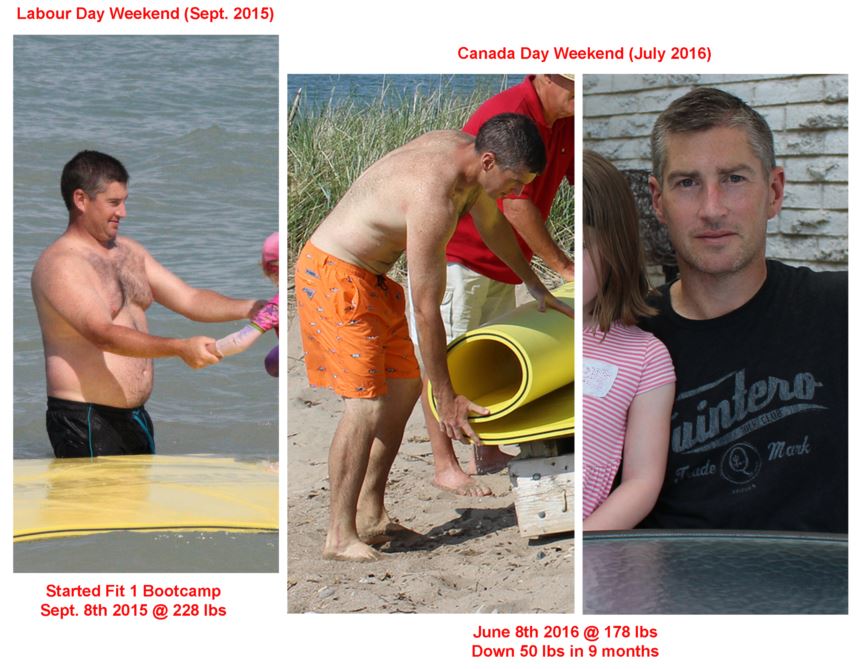 Thank you Len and Fit 1 Bootcamp
Len, this is a very small gesture of thanks in comparison to the massive change you provided me. It is also a testimonial to how amazing your fitness classes are and the realization you provided that health, fitness and added self-confidence is absolutely attainable in a short period of time.
It started as an innocent but stark realization that my weight gain had gotten to a point I could no longer ignore. A little blow to my vanity spurred me to seek an exercise program to work into my weekly schedule. After finding Fit 1 online and going through your initial assessment, my perspective then change to also include a long-term view of my health and its impact on my young family.
To start the process, all I had to do was commit to showing up twice a week. Really that's pretty simple and once you mentally committed to just showing up, the rest starts to fall in place. It only takes the first few sessions to adjust the body and start to feel immediate changes. On top of that, the added insight and urging you provided to understand, measure, and manage diet was as equally as important as the strength training programs.
By the end of the first month I was down 15 pounds. It literally only took a handful of classes, a little additional cardio at home and for the first time in my life I started to think about the food I ate.
By the ninth month of going to class and being sensible with my diet, I'm now down 50 pounds. There's not much further to go other than the long-term goal of consistency and moderation. But seeing the long-term members you have had for years and seeing their terrific habits, I am confident about the future and literally feeling better than ever with my 40's just around the corner!
Thanks for everything Len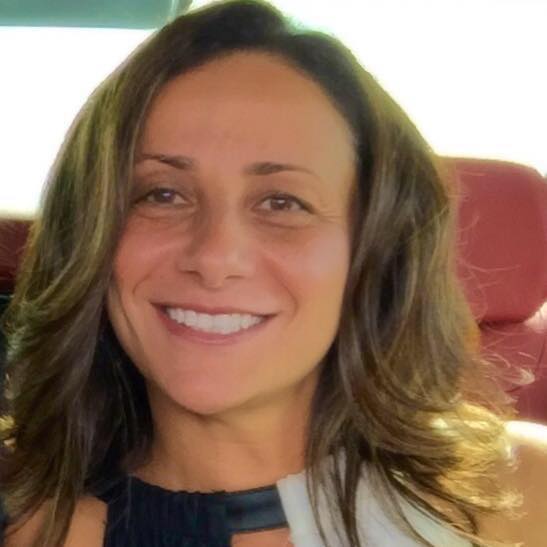 Teresa Fenech
"I have incredible energy, my balance and flexibility have improved and I've got great new muscles"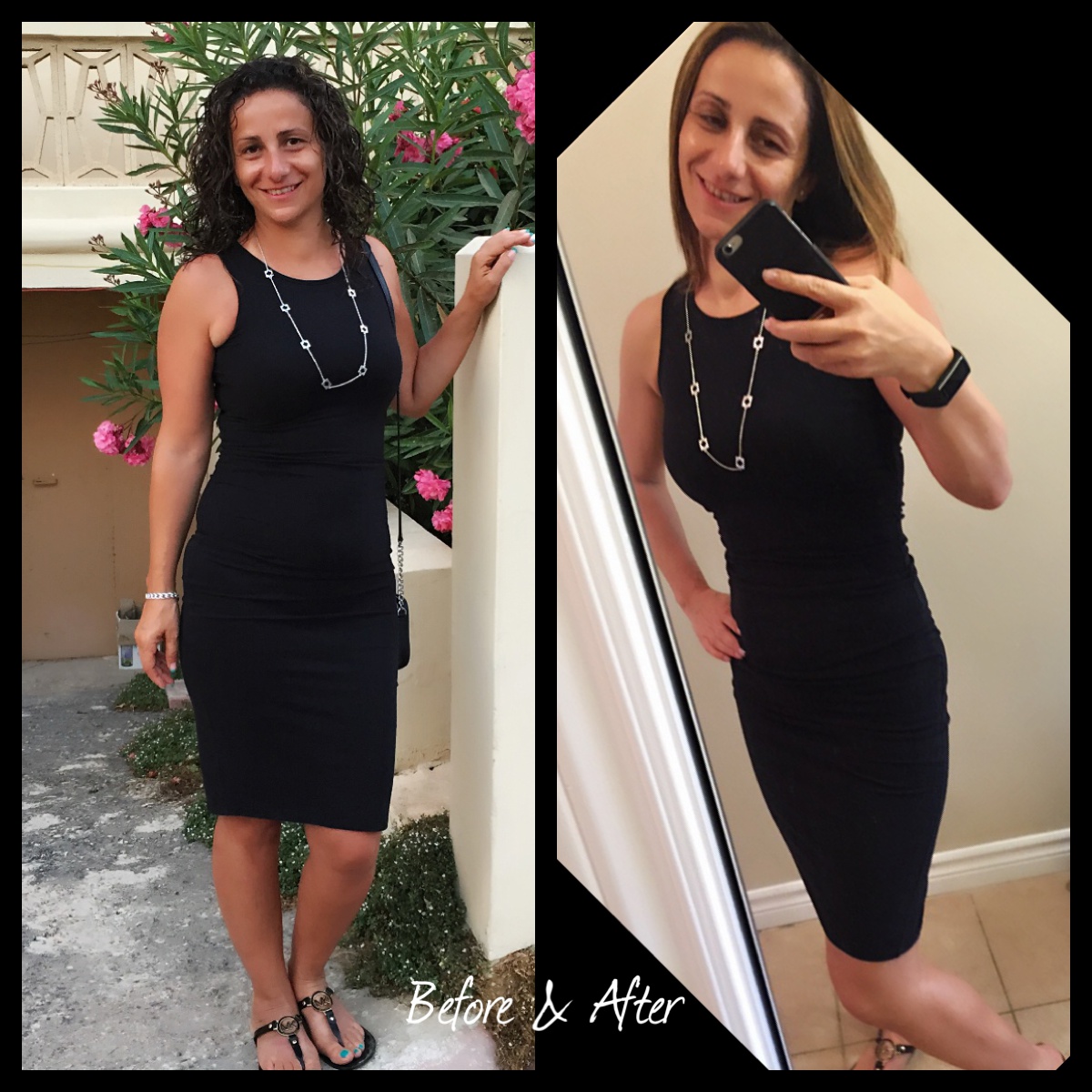 I've been working with Len at Fit1 Boot Camp for 8 months and I have seen amazing results in that time. I have never felt stronger or healthier. Len is passionate about fitness and it shows through the energy and enthusiasm he brings to every boot camp session. He makes each workout challenging, creative and most importantly, fun! He also places a high value on correct form with each exercise. Len motivates me to push past my perceived limits to get results. I have incredible energy, my balance and flexibility have improved and I've got great new muscles. If you are serious about changing your life for the better, Len will lead you every step of the way.
Thank you Len, you are the best!
Teresa Fenech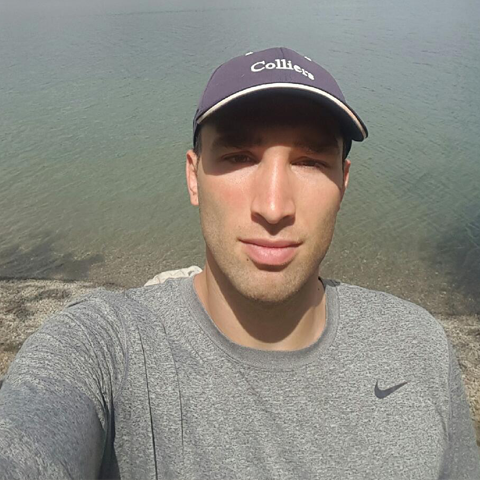 Darko Trifunovic
Lost over 45 pounds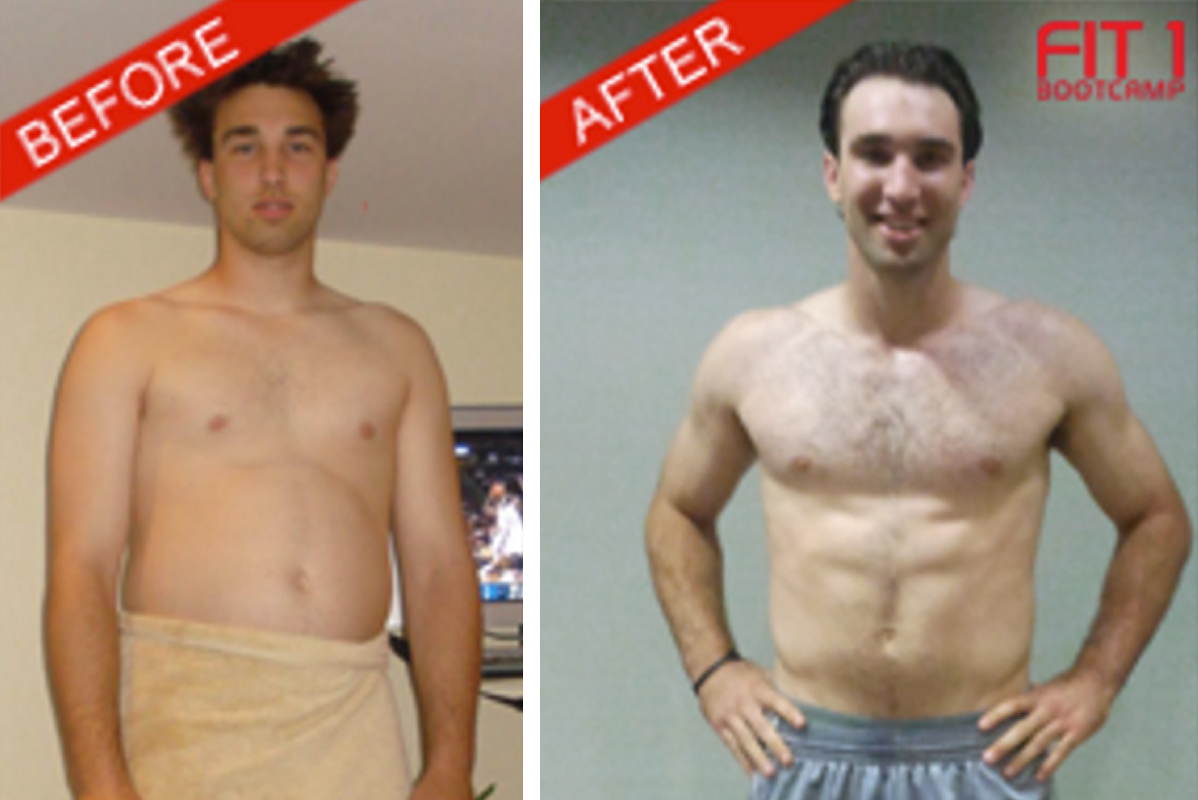 I have been working with Len since 2007. I can honestly say our time together, has completely changed my life. When I came to Len, I was coming off a bad sports injury to my knee. I lost 45 pounds, and had lost a lot of confidence in myself. Through a variety of workouts, hard work and a vast knowledge of nutritional information, Len has helped me transform my mind and body. I look at my time with Len as being a key factor in my ongoing health and positive mind set. Len is much more then a trainer to me. His confidence in me has inspired me to accomplish goals I never would have dreamed of before meeting him. Len is truly someone who cares about the well being of those he trains, when he motivates you, you respond! I have recommended Len to everyone I know, and I strongly recommend him to anyone reading this!
Thank you Len!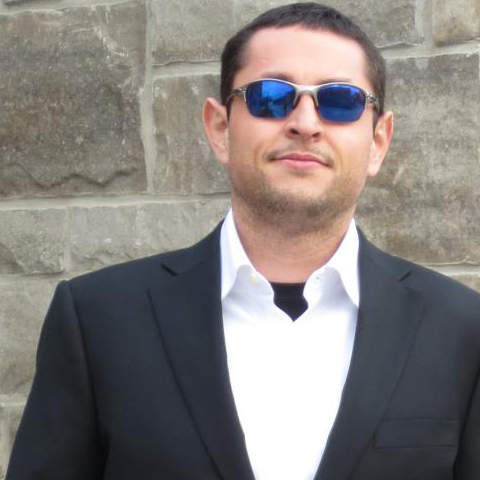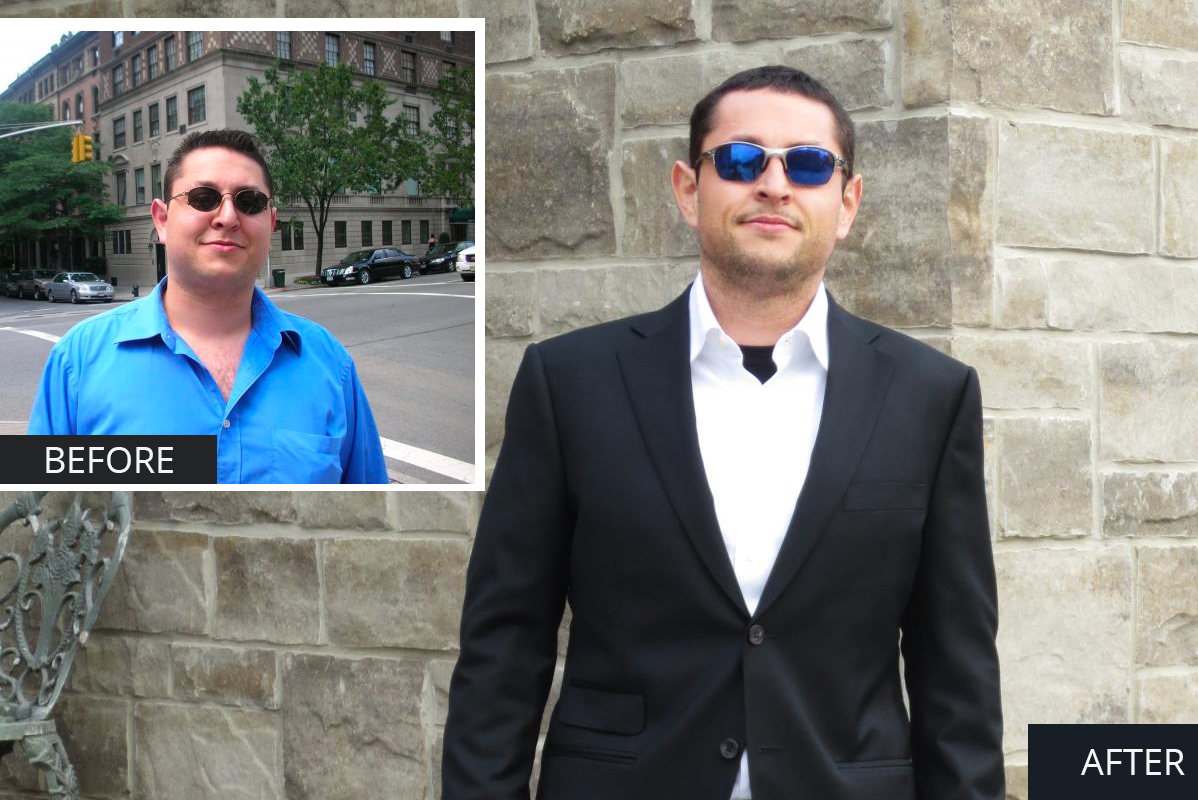 After 1 year of personal training at Fit1 Bootcamp, I learned to eat & drink properly and exercise effectively.  I learned the difference between a diet and a lifestyle change, custom tailored just for me.  Four years later, 70 lbs down… the hardest part of all was admitting I needed help.  The rest wasn't easy… but Len made it possible, and fun.
Thank you for saving my life Len.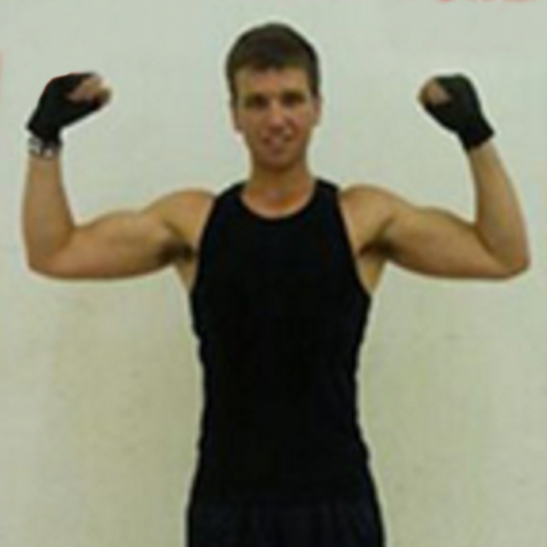 Andrew Lagree
Lost 120 pounds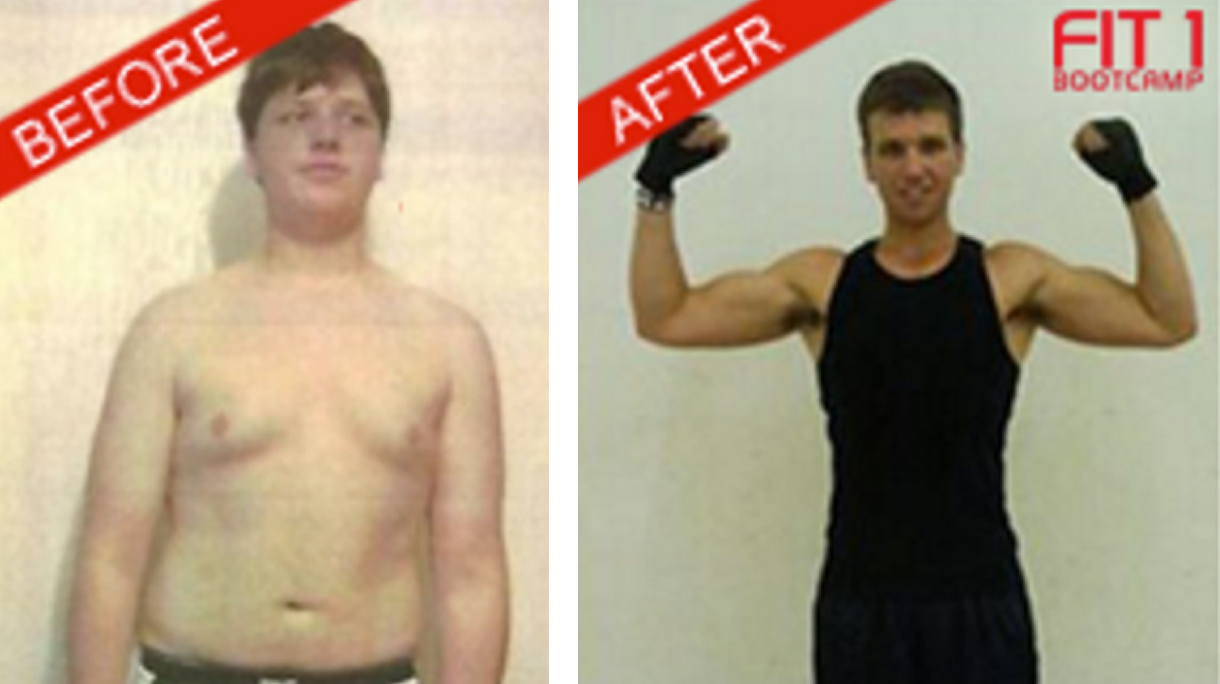 At a 19 year old teenager, I cannot but imagine how the most important years of my life could have turned out differently, if I had decided to life a healthier lifestyle sooner.
As a child growing up, most of my memories revolved around other children putting me down.  I've struggled with obesity throughout my childhood and the majority of my teenage years, becoming morbidly obese, and weighing 285 pounds and over 37% body fat, at 16 years of age. I lived my life with no self-esteem or respect for myself. I only had one or two people in my life that I could really call friends. I was a recluse; I distanced myself from people because of what I thought they thought of me, or said behind my back and some directly to me. I didn't care about my appearance or how I was dressed let alone how hard it was for a 285lb -6'2" teen to find any clothes to wear that made me fit in with the other teens. I rarely went out and most of the time I sat in the basement or in my room playing in a bubble. I didn't love myself and hated what I saw in the mirror and I always questioned what my purpose in life was sometimes even questioning if I had a purpose.
I went so far as to choose my high school based on the fact that most of my grade school students were going to another high school, I just wanted to be away from them and hopefully have a new start. I enjoyed painting and sketching as they could be done alone away from others. I was supposed to take gym class in grade 9 but I put it off until grade 10 because I knew I wasn't able to complete the exercises or fitness expectation of the course. Some of my teachers saw potential in me which was good, as an example my grade 9 math teacher talked me into enrolling in the advance placement math program, but I later realized  I had sabotaged my marks by not applying myself. While in grade 10 advanced placement math, all the emotional issues I was going through almost cost me to fail the course. It went so far that at my mid-term I was at a 26% average and my teacher wanted me out of his class. Fortunately my parents knew I could pass if I applied myself and with their encouragement, by the end of the term, I had passed the final exam with 98% to give me an average of 62%.
During the summer of 2007 I was a counsellor for PLAST a Ukrainian Boy Scouts camp and that is when I reached 285lbs, my maximum weight. I returned from camp to go back to the computer and video games I treasured so much. In September of 2007 the few friends I had invited me to play paintball with them. I asked my mother to get the clothes I would usually wear to play in. When I tried them on they didn't fit at all. I then tried on all the other pants that used to fit and none of them were big enough. This was a pinnacle turning point in my life, the point in combination with the rest of my life that finally pushed me over the edge.
When I came home that night after paintball, I took action that would change the rest of my life. I started by throwing out everything in the cupboards, shelves and drawers that got me to hate myself. I told my parents that I am done with being fat and that I would change. I had been attending a gym since I was about 15 years old, but I wasn't really intent on change. I believe I had been going to the gym during this time to appease my parents. This time though would be different. I asked my parents to go with me and arrange for a personal trainer. I knew in my heart, that this time, I would be doing it for me.  I trained 3 times /week, and worked on and off by myself the other days of the week. Len also worked with me on my diet. I completely changed the way I ate and looked at food.
By my weigh in on December 7, I was 241 lbs. and 28.6% body fat. Wow what a change! In December of 2007, my parents took me on a Caribbean cruise. Usually everyone says that you will put on weight, but I stuck to my exercise regime and worked out on the ship and made healthy eating choices, and when I came back home and had my next weigh in on January 7, 2008 I was 226lbs and 26.6% body fat down 15 lbs. I religiously adhered to my trainer's fitness regimen and dietary guidelines never braking to cheat on the holidays or when out with friends.
Continuing with my healthy lifestyle on May8, 2008 I can say with pride was my happiest day of my life. I reached my original goal of 175lbs and 15.7% body fat, and even more exciting, I exceeded my BMI goal of 2%. The feeling is hard to explain, it is almost like being born again, the feeling was amazing, as if I had a new lease on life and was on top of the world.
Since September 2007 I had lost approx. 110lbs and even more exiting I was in the athletic zone of the body fat range (I had never in my life before considered myself athletic)! Things then really started to change for me personally. I was starting to become more immersed in school; I joined numerous clubs, the ski team, and even took Phys-Ed as an elective in grade 12! I even got a part time job as ski patroller, which involved going through 100+ hours of first aid training.  My entire personality changed. I went from being a shy loner to outgoing and expressive, which naturally lead me to be around people, which meant, I started making friends left, right and center. My school work also radically improved. By the end of 2008, I was on the honour roll and received a certificate for highest grades in Manufacturing Technology.  I had also attended a Ukrainian school on the weekends since grade 1  and we had the graduation ceremonies in June 2008. Everyone there just knew me as the chubby kid. When I walked up to receive my diploma, in my new suit and new personality, not only did no one recognise me, but they could not believe it really was me after they found out.  What a feeling to experience that day! I returned to my high school in September 2008 and sat down in my favorite Tech class with a teacher who had taught and know me for the past three years but hadn't seen me since December 2007. He not only didn't recognise me and thought I was a new kid in the class but took half the class time and then class mates saying "yes that is Andrew Lagree" as he was staring at me in disbelief  and then finally realized it was me. During the same year my marks took off, I was one of the top students in most of my classes, including physics , and advanced functions finishing the year on the Honour Roll with a 90% average.
My hopes and dreams since I was a little kid were to grow up and become and Architect. After completing a year of university studying business management at Ryerson that dream has dramatically changed. After going through this massive change in my life, I feel that I cannot rightly live the rest of my life ignoring all the people around me that want and need help in living a healthier lifestyle. I have since changed my career path into the health field. I'll be studying Kinesiology and I plan to become a personal trainer to give back to people just like my trainer gave me. I then plan to go to medical school and specialize in obesity. In the meantime, my life change has inspired me to become a Ski Patroller/ assistant instructor, life guard and swim instructor. I will also be signing up to attend a personal trainer certification course in order to start my path to becoming a personal trainer.
My goal in life is to give back, mostly to help obese individuals and anyone wishing to become healthy, see that change is possible by taking that first step and then being there to help guide them along the way through fitness and nutrition.
I know that fitness is a life long journey; on my last assessment in June 2010 I was 167lbs and 9.9% body fat. Right now my goal is to build muscle mass and reach a weight of 180lbs. I am doing this by going to and working out at the gym 6 days / week, still with Len but not as much as before.
I wrote this testimonial for Len so that everyone understands that weight loss and healthy living is absolutely attainable, and not a destination but a journey for the rest of our lives. One of the most important things that everyone must remember is that to start this journey no matter how much our family and closest friends push us, only we can make the final decision.
Yes! I'm Ready For A Healthier Life!
If you're ready to get in the best shape of your life then contact our certified personal trainers today for a free consultation and let's discuss your goals.
If you would like to try us out to get a feel for what we do, please attend one of our Karma Bootcamp workouts.
<div id="ab-optin-container"> <form action="https://app.uplevelapp.com/wf/process.aspx" method="post"> <div style="display:none"> <input type="hidden" name="ab_locationID" id="ab_locationID" value="1142" /> <input type="hidden" name="ab_fid" id="ab_fid" value="1291" /> <input type="hidden" name="apiKey" id="apiKey" value="0s-159f2a835bef49cf805a5f8aa54938c8" /> <input type="hidden" name="ab_upID" id="ab_upID" value="" /> <input type="hidden" name="ab_uuid" id="ab_uuid" value="" /> </div> <input type="text" required="required" name="ab_firstName" id="ab_firstName" placeholder="First Name" value="" style="box-shadow: none; font-size: 14px; border: 0px solid rgb(153, 153, 153); color: rgb(38, 38, 39); padding: 10px; width: 100%; margin-bottom: 10px !important; box-sizing: border-box; font-family: "Helvetica Neue", Helvetica, Arial, sans-serif; text-align: left; background: rgb(255, 255, 255);" /> <input type="text" required="required" name="ab_lastName" id="ab_lastName" placeholder="Last Name" value="" style="box-shadow: none; font-size: 14px; border: 0px solid rgb(153, 153, 153); color: rgb(38, 38, 39); padding: 10px; width: 100%; margin-bottom: 10px !important; box-sizing: border-box; font-family: "Helvetica Neue", Helvetica, Arial, sans-serif; text-align: left; background: rgb(255, 255, 255);" /> <input type="tel" required="required" name="ab_mobile" id="ab_mobile" placeholder="Mobile Phone" value="" style="box-shadow: none; font-size: 14px; border: 0px solid rgb(153, 153, 153); color: rgb(38, 38, 39); padding: 10px; width: 100%; margin-bottom: 10px !important; box-sizing: border-box; font-family: "Helvetica Neue", Helvetica, Arial, sans-serif; text-align: left; background: rgb(255, 255, 255);" /> <input type="email" required="required" name="ab_emailaddress" placeholder="Email Address" value="" style="box-shadow: none; font-size: 14px; border: 0px solid rgb(153, 153, 153); color: rgb(38, 38, 39); padding: 10px; width: 100%; margin-bottom: 10px !important; box-sizing: border-box; font-family: "Helvetica Neue", Helvetica, Arial, sans-serif; text-align: left; background: rgb(255, 255, 255);" /> <button type="submit" class="ab-optin-submit-button" style="outline: none; padding: 15px; width: 100%; text-align: center; box-sizing: border-box; cursor: pointer; color: rgb(255, 255, 255); font-family: 'Helvetica Neue' Helvetica, Arial, sans-serif; font-weight: bold; font-style: normal; font-size: 12px; border: 0px none rgb(208, 25, 25); background: rgb(234, 192, 60);">CLAIM YOUR FREE CONSULTATION</button> </form> </div>