#WhatscookinWednesday: Paleo Chicken Enchalada Bake
Have you thought about "going Paleo", and then stopped yourself because it sounds like a fad diet, too restrictive, or just a whole lot of bland meat? It's time to reconsider! Paleo eating isn't just a diet, it's a way of living. Research shows that it's more satiating than a mediterranean diet, a low fat diet, or low carb diet. Paleo doesn't mean low carb, but reducing your carb intake will support weight loss if that's one of your goals.
What does Paleo mean?
"Paleo" is short for Paleolithic, the early phase of the Stone Age, when primitive tools were used and humans lived on a diet of meat, fish, vegetables, and fruit. Essentially, they ate "real" food that was fresh and in season: nothing processed, and little to no dairy products. The Paleo eating style is healthy because it cuts out the "C.R.A.P." (carbonated drinks, refined sugars, artificial sweeteners/ artificial anything, and processed products).
Is it right for me?
Do you want to feel more energized, lower your blood sugars, improve your skin, lose weight, and feel better? If so, Paleo is right for you. The Paleo eating style even works for vegetarians and vegans! However, Paleo recipes with meat and fish are recommended, especially grass fed beef, free range (real farm raised!) chickens, and wild fish.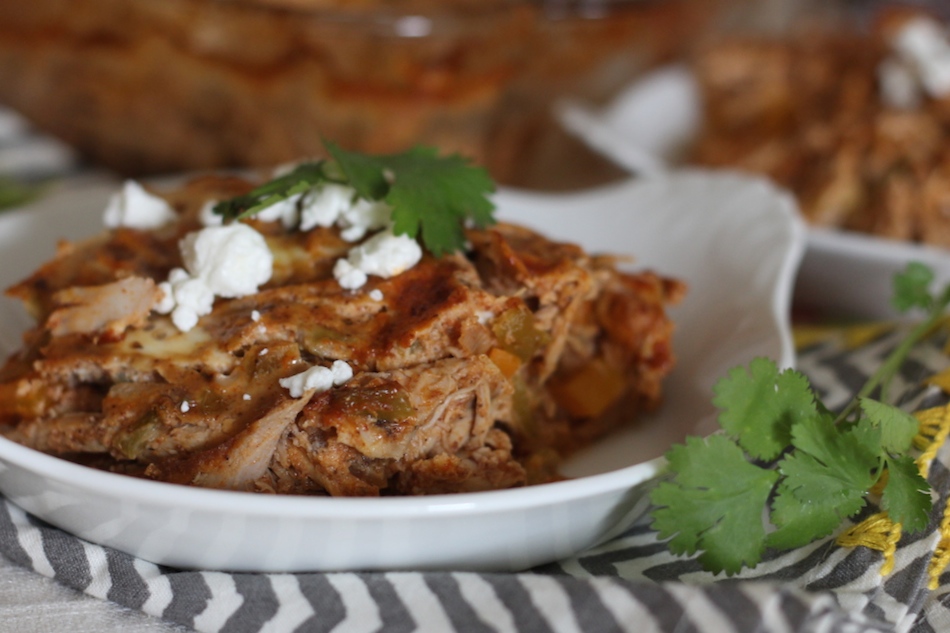 Ease into Paleo eating with this simple Paleo chicken dish from our friends at PaleOMG.
Paleo Chicken Enchaladas
Serves: 3-4 people
Prep Time: 10 minutes
Cook Time: 1 hr 10 mins
Ingredients
coconut oil, for greasing baking dish
1 pound cooked, shredded chicken (I used a rotisserie chicken)
1 (14 ounce) can El Pato enchilada sauce
1 (6 ounce) can of diced green chiles
1 orange bell pepper, seeded and diced (or any color you like)
¼ red onion, diced
2 garlic cloves, minced
¼ teaspoon chili powder
¼ teaspoon dried oregano
salt and pepper, to taste
3 eggs, whisked
cilantro, to garnish
goat cheese, to garnish (optional)
Instructions
Preheat oven to 350 degrees. Grease an 8×8 glass baking dish.
In a large bowl, add shredded chicken, enchilada sauce, green chiles, bell pepper, onion, garlic, chili powder, oregano, and salt and pepper. (feel free to be generous with the salt) and mix well.
Then add eggs and mix well to incorporate.
Pour mixture into baking dish.
Place in oven and bake for 1 hour and 15 minutes. Check at 1 hour to see if eggs have completely cooked through and cook extra 15 minutes, if needed.
Let rest for 5 minutes then garnish with goat cheese (optional) and cilantro.
Enjoy with a salad or green beans or (if you're not cutting carbs at the moment) a baked sweet potato.