#whatscookinWednesday: Feel Amazing, Healthy, and Fit With Roasted Beetroot Salad
It's spring time and the weather is… (almost!) getting warmer! It's time for spring flowers, outdoor workouts, shorts, and adventures! This week's recipe will leave you feeling healthy, fresh, and bursting with vitality! 
Beetroots are full of fibre,  powerful antioxidants, iron, folic acid, and silica; they help the body utilize calcium, lower blood pressure, aid digestion, and stabilize blood sugar. And they are delicious and easy to cook! 
This easy recipe is courtesy of our friends at www.ohsheglows.com and serves 3 (or 2 if it's your entire dinner)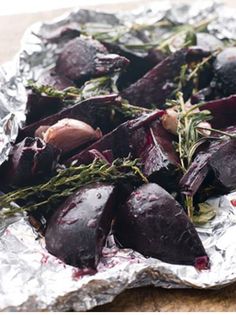 For the balsamic reduction:
For the salad:
• 5-6 medium beetroots
• 75g hazelnuts
• 1 tbsp roasted-hazelnut oil or extra-virgin olive oil
• 6-8 sprigs fresh thyme
Method
1.  In a medium saucepan, bring the vinegar to a low boil over a medium-high heat. Reduce to medium-low and simmer, stirring often, for 20 to 30 minutes until it has reduced by two thirds. Keep an eye on the vinegar to avoid burning it, and reduce the heat if necessary. You should have about 75ml of reduced vinegar left in the pan. Remove from the heat and leave to cool.
2.  Meanwhile, preheat the oven to 200°C/gas mark 6, OR start the BBQ!
3.  Trim the beetroots, wrap each individually in a piece of foil and place them on a baking sheet if you're using the oven. In the oven: roast for 45 to 90 minutes, depending on the size of the beets, until a fork easily slides into the largest beet. On the BBQ: roast for approximately 20 minutes, checking carefully to make sure you don't burn them! Leave to cool for about 20 minutes, or until cool enough to handle, or leave them overnight and try to avoid eating them all as a midnight snack!
4.  Reduce the oven temperature to 150°C/gas mark 2. Toast the hazelnuts in the oven for 12 to 15 minutes, or until the skins have darkened and are almost falling off. Place them on a damp tea towel and rub vigorously until most of the skins fall off. Roughly chop the hazelnuts and set aside.
5.  Carefully unwrap the beetroots. Under cold running water, push the skins off with your fingers. Slice the beets into 3mm rounds and arrange among three plates. Sprinkle a handful of toasted hazelnuts on top, add a drizzle of balsamic reduction (about a tablespoon for each plate) and a drizzle of oil. Scatter over the thyme leaves and serve.
6.  To save time, cook the beets the day before and refrigerate until needed. The balsamic reduction can be refrigerated in an airtight container for up to a month. Allow it to come to room temperature before using.
7.  Enjoy, and then join us for a boot camp class or personal training session to put your healthy, happy energy to good use!
***
My name is Len Benoit and I'm the owner/trainer at Fit 1 in Etobicoke.  I didn't invent this delicious recipe but I will enjoy it right along with the rest of you.  If you are in the Mississauga, Etobicoke or Toronto and want more information about my Bootcamp, Clubbell Yoga, or Personal Training classes, give me a call at 647-776-7776 or visit the website at www.fit1bootcamp.com.  Come in for a FREE 7-Day Trial membership and find out if FIT is right for you!