Nutritious and Delicious Recipe of the Week: Fuel Your Body and Your Workouts With Faux-Oatmeal! 
It's #what'scookinWednesday again, and in the Fit1 kitchen we are testing out a few new recipes to keep us warm, toasty, satisfied and ready for our workouts on cold winter mornings! This recipe for "raw" (but warm!) Apple Pie Chia Seed Porridge takes about 10 minutes to prepare, but it's worth it! Wake up a few minutes early tomorrow morning, turn on some relaxing music, blend up some breakfast, and then take a few moments to relax and enjoy your delightful and oh-so-healthy breakfast!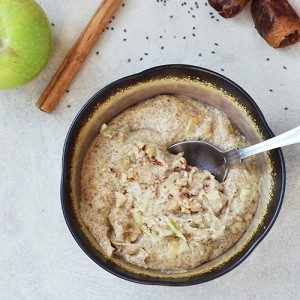 A delicious, warming breakfast that just so happens to be super healthy for you! Suitable for everyone, including those on raw, vegan and gluten-free diets. Recipe courtesy of wallflowergirl.co.uk. Check out her awesome blog for more delicious and nutritious recipes to keep you on track with your healthy eating plan this winter!
Ingredients
120ml (1/2 cup) almond milk
2 tbsp chia seeds
2 tbsp almond butter
3 dates, roughly chopped
2 tsp coconut sugar, depending on sweetness desired
½ tsp mixed spice
½ tsp ground cinnamon
1 green apple, peeled and cored
Chopped pecans
Directions
Mix all of the ingredients, except the chopped nuts, in a blender until thick and smooth.
Transfer to a saucepan, stir and heat gently until warm. If you're on a raw food diet, you can use a thermometer to ensure it doesn't heat above 40c (110f.)
Serve with chopped pecan nuts and grate over some fresh apple (I used leftover apple from the core.) Enjoy!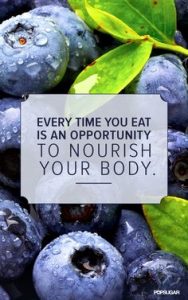 You're only one workout away from a good mood, enhanced self-esteem, and improved fitness! Join the Fit1 Bootcamp team in our Etobicoke/ Toronto gym for classes year round, indoors in the winter, and indoors and outdoors in the summer.
Co-Ed Bootcamp Classes in Etobicoke, Toronto (on the Mississauga Border)
Monday, Wednesday, Friday: 7:00am – 8:00am, 6:30pm – 7:30pm
Tuesday, Thursday: 6:00am
Saturday: Karma Classes (minimum $5 donation to abilitygives.org) 9:00am
Women Only Bootcamp Classes in Etobicoke, Toronto (Five minutes walk away from Islington Subway Station, on the border of Mississauga)
Monday, Wednesday, Friday: 9:30am-10:30am
Personal Training in Etobicoke, Toronto. Available 7 Days Per Week By Appointment