Fitness Tip Thursday: Our Top Tip of the Week to Improve Your Health and Fitness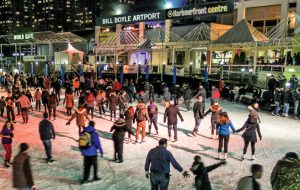 January is not the easiest month of the year to maintain your health and fitness! It's cold, dark, the days are short, and there are a million other excuses for hibernating in your family room with your pyjamas on. Luckily, there are some fantastic event planners in Toronto who understand what Torontonians need the most at this time of the year: a reason to get bundled up and get outside for some fun, fresh air, and fitness!
Today's fitness tip is:
Try ice skating!
It's a fun and social way to enjoy the winter, and a 150 pound woman can burn approximately 500 calories in an hour of moderate ice skating! There are some great (and FREE!) ice rinks in Toronto, and skate rental costs less than two cups of coffee or a netflix movie! 
Check out the following skating parties at Harbourfront. From January 3 onwards, the best DJ's take over the sound system and the rink becomes a party. Call up your friends, it's time to make a plan for a fun night of music, laughs, and fun exercise:
Free ($8 for skate rental). 235 Queens Quay W., harbourfrontcentre.com.
Saturday, January 24, 2015
Motown Party On Ice
8:00PM – 11:00PM
Saturday, January 31, 2015
"You Gots To Chill" – Hip Hop and Beats
8:00PM – 11:00PM
Saturday, February 7, 2015
Soca On Ice
8:00PM – 11:00PM
Saturday, February 14, 2015
"Yes, Yes Y'All Valentines"
8:00PM – 11:00PM
Saturday, February 21, 2015
"Manifesto" – Hip Hop, Global, Contemporary
8:00PM – 11:00PM
You're only one workout away from a good mood, enhanced self-esteem, and improved fitness! Join the Fit1 Bootcamp team in our Etobicoke gym for classes year round, indoors in the winter, and indoors and outdoors in the summer.
Co-Ed Bootcamp Classes in Etobicoke, Toronto
Monday, Wednesday, Friday: 7:00am – 8:00am, 6:30pm – 7:30pm
Tuesday, Thursday: 6:00am
Saturday: Karma Classes (minimum $5 donation to abilitygives.org) 9:00am
Women Only Bootcamp Classes in Etobicoke, Toronto (5 minute walk from Islington Station, near the Mississauga and Etobicoke border)
Monday, Wednesday, Friday: 9:30am-10:30am
Personal Training in Etobicoke, Toronto. Available 7 Days Per Week By Appointment